blog
ClusterControl adds Enterprise Binaries and new GUI in latest release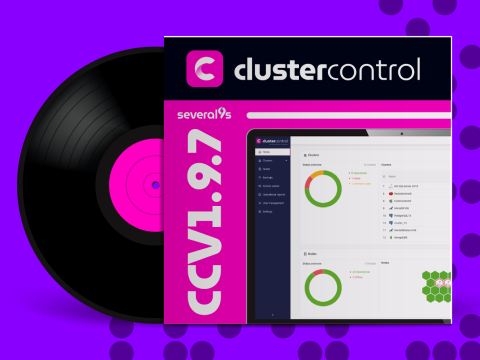 We're excited to announce that ClusterControl v1.9.7 is now available! This latest release brings a major milestone —the official launch of our new web frontend, ClusterControl GUI v2. With a host of new features and improvements, this new version introduces enterprise binaries for PostgreSQL and MongoDB, new database version availability for PostgreSQL, MongoDB, MariaDB, MS SQL Server, and more.
All this is delivered via a stunning new GUI…database ops has never looked better.
We cannot wait to hear what you think about it. Let's dive into the highlights!
New Enterprise vendor binaries
Managing enterprise-grade PostgreSQL and MongoDB clusters has never been easier. You can now choose between open-source and enterprise binaries when deploying PostgreSQL and MongoDB. This means if you have critical environments on these enterprise binaries or want to deploy new ones, you can monitor and manage EDB Postgres Advanced Server and MongoDB Enterprise clusters through their dedicated enterprise repositories when provisioning databases through ClusterControl's single pane of glass.
ClusterControl GUI v2.0 — a modernized web frontend
A new era of database management user experience has arrived as we've migrated to a new innovative web frontend. ClusterControl GUI v2 is now the default web application and offers a modernized UI and improved user experience. This new version introduces an array of features to streamline your operations, including:
Mail notifications – Receive timely cluster alerts via email notifications for prompt responses.
Certificate management – Centralize SSL/TLS certificate handling, from creating new certificates to importing existing ones.
Advisors – ClusterControl-specific scripts for performance monitoring, giving you more control over your monitoring metrics.
Incident management services – Seamlessly integrate with services like PagerDuty and OpsGenie to ensure swift incident response.
Topology view – Glance into replication topology and access essential node actions for better management.
Upgrade to the latest database and operating system versions
ClusterControl 1.9.7 comes with support for several new database and operating system versions, including:
Database version updates:

PostgreSQL 15
MongoDB 6.0
MariaDB 10.11
MS SQL Server 2022

Operating system version updates:

RedHat 9
AlmaLinux 9
RockyLinux 9
Wrapping up
We're excited for you to experience the new ClusterControl 1.9.7, so be sure to stick around as we continue to refine and expand its capabilities. For detailed notes on the latest features, including how to upgrade to ClusterControl v2 and how to start using the enterprise binaries, visit our changelog.
Thanks for being part of the ClusterControl community! Follow us on LinkedIn and Twitter, and subscribe to our newsletter to stay in the loop.
Subscribe to get our best and freshest content