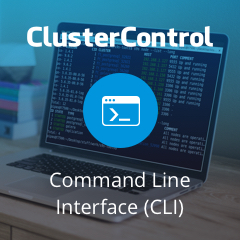 In this webinar we will walk you through the ClusterControl command line toolset capabilities and demonstrate its main functions and DevOps integration aspects.
The Severalnines command line interface offers an open source alternative for the web based ClusterControl User Interface on the command line. You can perform almost any deployment, management or scaling task from the command line; any changes made are also visible in the web UI and vice versa.
The command line client opens up many possibilities to integrate ClusterControl into your infrastructure or development cycle. You can integrate the client easily with existing deployment automation tools like Ansible, Puppet and Chef. You will be able to enrich your existing chatbot to interface with ClusterControl or make use of Severalnines' chatbot called CCBot. The command line client can also create output in various formats, including json, to make integration with any framework easy.