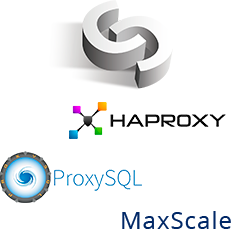 Join us for our new webinar next week, Tuesday May 9th, with Krzysztof Książek, Senior Support Engineer at Severalnines, who will discuss support for proxies for MySQL HA setups in ClusterControl: how they differ and what their pros and cons are. You'll also be shown you how you can easily deploy and manage HAProxy, MaxScale and ProxySQL from ClusterControl via a live demo.
Proxies are building blocks of high availability setups for MySQL. They can detect failed nodes and route queries to hosts which are still available. If your master failed and you had to promote one of your slaves, proxies will detect such topology changes and route your traffic accordingly. More advanced proxies can do much more, such as route traffic based on precise query rules, cache queries or mirror them. They can be even used to implement different types of sharding.
Register below to hear it all about it!
Date, Time & Registration
Europe/MEA/APAC
Tuesday, May 9th at 09:00 BST (UK) / 10:00 CEST (Germany, France, Sweden)
North America/LatAm
Tuesday, May 9th at 9:00 PST (US) / 12:00 EST (US)
Agenda
Introduction
Why use a proxy layer?
Comparison of proxies - the pros & cons

HAProxy
MaxScale
ProxySQL

Live demo of proxy support in ClusterControl
Speaker

Krzysztof Książek, Senior Support Engineer at Severalnines, is a MySQL DBA with experience managing complex database environments for companies like Zendesk, Chegg, Pinterest and Flipboard.
We look forward to "seeing" you there and to insightful discussions!
If you have any questions or would like a personalised live demo, please do contact us.