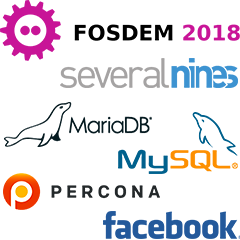 It's kind of difficult to start a blog with something original that hasn't been written before when blogging about attending or sponsoring a particular event or conference…
What can I say?
FOSDEM 2018 is round the corner? Ready for FOSDEM 2018? Join us next week at FOSDEM 2018? All set for FOSDEM 2018 next week? The possibilities are endless…
So here we go ;-)
FOSDEM 2018 D-7!
If you're in Europe and into open source (databases) make sure not to miss FOSDEM 2018 in Brussels, which takes place next week from the 2nd (unofficially) to the 4th of February (officially).
Thousands of open source enthusiasts will be gathering in the Belgium capital to talk latest technologies, concepts and ideas all around open source software.
If you haven't made plans to attend yet, you can find all the details on the FOSDEM website.
Why and how are we at Severalnines involved?
Well, we help users automate and manage their open source databases and are historically closely tied to the MySQL database (on a personal and technology level) - though we also support PostgreSQL and MongoDB of course.
And the MySQL Community in Europe has always taken advantage of the FOSDEM conference to get together and exchange on the latest and greatest to do with MySQL. The group organising this particular aspect of FOSDEM is the MySQL & Friends group. With that, FOSDEM hosts a MySQL DevRoom dedicated to the open source database and related technologies.
And since the MySQL community has always been friendly towards food and drink, there is a yearly MySQL Community Dinner that takes place the evening before the official FOSDEM start.
That's where we come in (alongside other illustrious names) since we're co-sponsoring this year's MySQL Community Dinner again!
This year the dinner is sponsored by Oracle MySQL, MariaDB, Facebook, Percona and our true selves, and we'd like to wish all participants a great evening and get together.
If you haven't booked your tickets yet, there's still time do so here.
Have fun at FOSDEM and enjoy the MySQL Community Dinner!