Percona Live MySQL Conference & Expo - March 31st to April 4th
The Severalnines Team Will Be Onsite at Booth 418 - Come Say Hello!
If you're still thinking about whether or not you should be attending the Percona Live MySQL Conference & Expo that starts on Monday 31st of March, here are 9 reasons (we are Severalnines after all) on why we'll be there. May these help you positively in your decision making ;-)
1. The 2014 edition showcases the most promising program yet
Sounds like a cliché-reason to be listed here, but this year's program is in fact quite diversified in its content and speakers. Of course, all of the expert technical content that one would expect from such a conference is there and it would be pointless to try and list them all here; the array of speakers is impressive and seems to include quite a few 'user-speakers' as opposed to 'industry-speakers'. 
Interestingly though, there are also talks or sessions being offered this year, which we wouldn't have seen in previous years (or if we just missed them, please shout). 
These talks and sessions are entirely relevant to the audience expected at the conference and yet, they stand out, probably because they seem less obvious and don't fall into the wider techie talk category. 
Take for example Erin O'Neill (Blackbird)'s  proposed session on 'MySQL & women - where are all the women?': here's a topic that stands out (though it shouldn't have to of course); it's awesome that this session is being offered and that the conference creates a forum for that topic. And it is a great question: where ARE all the women that work with MySQL-related technology (as opposed to at MySQL or in a MySQL focussed company)? If some of these women are reading this post, please raise your hands; and join the discussion next week. 
Geoffrey Anderson (Box)'s talk 'To hire or to train, that is the question' is another great example. It's an absolutely relevant topic for many of the participants in the conference, though it may not be an immediately obvious. However, many participants of the conference are likely faced with the challenge of finding and/or developing the best talent possible for their organisations. So this sounds like a promising talk as well and it's great that it is being offered.
And there many other 'quirky' technical talks as well in addition to a whole range of quality talks with high-value content.
2. All MySQL flavours are well represented
Last year's conference was already a nice indicator of how the MySQL world is evolving and it was a welcome surprise to see speakers from Oracle participate in the conference. So it is even better to have confirmation this year that MySQL is in fact one big family and that the conference provides a platform for every branch of that family. 
With that mind, we are pleased to see that Tomas Ulin (Oracle) will be one of the opening key note speakers with a talk titled 'Raising the MySQL Bar'. Everyone attending the conference will of course be particularly interested to hear what the MySQL team at Oracle are planning for MySQL.
3. The MySQL eco-system is more vibrant than ever
This could come across as another cliché-reason to be bringing up here, but it is true. Looking at this year's program and speaker list, there is such a variety of companies and individuals represented that one really gets the feeling of a diversified program that aims at including as many variations of the MySQL eco-system as possible. As mentioned earlier, it is exciting to see this many 'user-speakers' for instance, i.e. speakers who work with MySQL-related technologies within organisations who make use of MySQL as opposed to make a living out of MySQL. Both are necessary and great to have of course, but there is always a danger at conferences that vendor speakers would be over-represented.
4. There is a new, extra day on Monday March 31st: the Open Source Appreciation Day
Now this is a clever addition to the conference week and an interesting sounding one as well. 
It's a free event and this year there are two sessions planned: one for CentOS and one for OpenStack. The schedule for this day looks pretty exciting and tags on well to the main conference. Find out more here: http://www.percona.com/live/mysql-conference-2014/program/open-source-appreciation-day
5. Meeting (clustering) users & other vendors
From our perspective, this is of course one of the most important reasons for us being at the conference. It gives us the opportunity to talk to (other) users, hear about what they do and what challenges they face, especially if they're clusterers like ourselves. And it's always good to meet fellow vendors or open source projects in order to get a better view of what the trends are and in which direction everyone is taking MySQL and related technologies.
6. The conference is a great place to learn about and keep up to date on latest developments
This is pretty similar to the previous point, but on a very practical level, some of us at Severalnines are literally going to be at the conference to learn. 
There is a great choice of tutorials this year for instance: http://www.percona.com/live/mysql-conference-2014/program/schedule/tutorials
Check the program out to pick yours!
7. Johan's talk on Performance Tuning
OK, so now we're coming to the "self-promotion" reasons in our list. 
Yes, we do have one of our colleagues speaking at the conference. And yes, we do recommend that you attend this talk, especially if you're planning to or are working with database clusters. Our colleague Johan Andersson is a bit of a reference when it comes to MySQL Cluster (and he's also our CTO). He'll be talking about MySQL Cluster Performance Tuning, which has really become Johan's trademark talk. This is the 2014 edition of the talk, so make sure to attend it if clustering is your thing!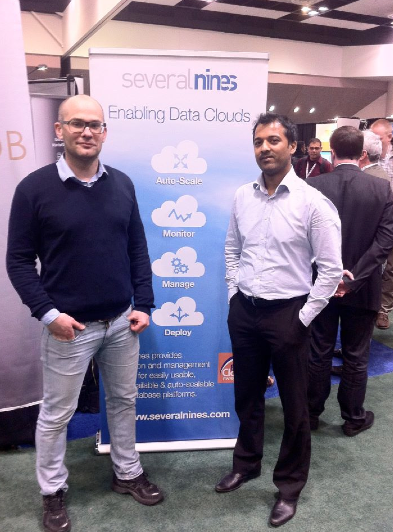 8. The Severalnines booth: yes, we do have a booth this year!
It's booth number 418 and we'll be just next to our friends from the Codership Galera Cluster Team! It's our first time having a booth at the conference, so we're pretty excited!
Do come say hello! 
9. Last but not least: it's like a class reunion
Let's be honest: a lot of us are going to the conference because we know that friends, ex-colleagues and other acquaintances will be there as well and we're looking forward to seeing them. There is a bit a of a class reunion vibe to this conference and that's in good parts the reason why it's been running all these years, when it could just as easily have dropped off people's radar. 
Hats off to Percona for keeping the conference going and having turned it into what it is today: the biggest MySQL conference on the globe, still going strong!
So, finally, congratulations if you've read this far and thank you! 
These are our 9 main reasons for attending the conference next week. And hopefully, you'll be attending as well!
See you there!