There's a new tradition that's establishing itself in the MySQL community, and that's the Percona Live Conference in Europe, which has been taking place for the past few years in addition to the long-standing MySQL User Conference in Santa Clara.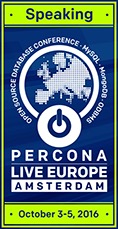 This year the conference takes place in Amsterdam once again following last year's success and we're looking forward to joining everyone there in October.
To kick things off, we were delighted to receive confirmation that our full day tutorial, Become a MySQL DBA, has been selected for the Tutorials Schedule of the conference.
We've conducted this tutorial in April this year at the Percona Live Santa Clara conference and it is based upon the experience we had while writing our 'Become a MySQL DBA' blog series, which is at its 20th installment and is a step-by-step "cookbook" on how to best administer MySQL.'
The tutorial address the following topics and questions:
Monitoring and trending for your MySQL installation

What's the most important to look after?
What tools to use?
How to ensure you are proactive in monitoring health of your MySQL?

How to diagnose issues with your MySQL setup?

Slow queries
Performance problems - what to look for?
Error logs
Hardware and OS issues

Backups

Binary and logical backup
What tools to use?

Most common maintenance operations

Schema changes
Batch operations
Replication topology changes

Database upgrades

How to prepare for an upgrade?
Performing minor and major version upgrades
We will provide a setup using virtuals where you can freely test upon.
We'll communicate again on our participation at the conference over the coming weeks and we already looking forward to seeing you all there. If you haven't registered for the conference, you can follow this link to do so.